Trail Blazing Fiddle Fest friend....
It came to me one day when doing some musical contemplating
what might others think?
So I thought why not ask?
And I reached out.
And they answered.
THE INTERVIEW 6
- a series of questions -
next up - Joe Deninzone
A few years back I was asked to host the stage of the First Annual (and what turned out to be the only) Fiddle Fest produced by the Indianapolis International Violin Competition. Joe was brought in with his band as was Natalie McMasters and Mark OConner. I kicked off the day with my band and introduced each after. Everyone was very hot as it got to be over 100 degrees and sadly very few witnessed such a spectacular day!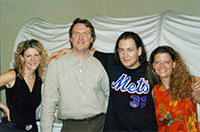 The Questions -
• How Do You Describe Your Music?
JD For my rock band, Stratospheerius (www.stratospheerius.com), I describe it as "progressive rock mixed with funk, jazz, and Gypsy influences," but the music really goes beyond description. You just have to hear it. At other times, I've described it as "Jean Luc Ponty meets Dave Matthews on crack."
• Whats Your Latest Project?
JD Stratospheerius just released our 5th CD on Steve Vai's Digital Nations label, titles "The Next World." I also play in a string quartet called Sweet Plantain (www.sweetplantain.com) which mixes Latin styles with hip hop and jazz in a traditional string quartet setting. In Stratospheerius, I let my freak flag fly when it comes to rocking out with the electric 7-string violin and experimenting with crazy effects, but in Sweet Plantain and my Jazz trio, I play traditional acoustic violin. I have also just released a book for Mel Bay Publications titled "Plugging in; A Guide to Gear and New Techniques for the 21st Century Violinist." (http://www.melbay.com/product.asp?productid=22035SET)
• Do You Play More Then One Instrument? Do You Recommend That?
JD In addition to violin, I play mandolin, guitar, electric bass, and I sing. I can't recommend it enough! I first learned to improvise on the bass and guitar before I learned to improvise on the violin. Playing the bass in rock, funk, and jazz bands helped me learn about groove and how to lock in with a drummer. Playing guitar and emulating Hendrix, Jimmy Page, and Steve Vai taught me about rock phrasing and how to use effects. I bring all of these elements back to my violin playing and string arranging. It's always great to get another instrument's perspective.
• Who Are Some Other Players You've Enjoyed Collaborating With?
JD I'll name a few from a very long list. There is a Brazilian jazz pianist and composer names Luiz Simas. I recently played with him at Birdland and I'm a huge fan of his writing. I also enjoy working with guitarist Steve Benson, who plays with my jazz trio and works with my in Robert Bonfiglio's group (www.bonfiglio.com). I love collaborating with my bandmates in Stratospheerius and Sweet Plantain.
• Who would you like to play with that you haven't?
JD I think John Mayer is underrated as a deep musician. He's a great instrumentalist and lyricist I'd love to work with him in some way. Questlove and the Roots are incredibly creative musicians. Producer Rick Rubin is someone I've always admired. I would also love to either write an electric violin concerto someday or collaborate with some great contemporary composer like John Corigliano or Richard Einhorn.
• Where Has Been One of Your Favorite Places to Perform?
JD The Grand Canyon Music Festival. I have played there for 13 years now. The festival has been run for 29 years by harmonica virtuoso Robert Bonfiglio and his wife, Flautist Clare Hoffman. It started out as a chambermusic festival, but I have been performing with Robert's crossover group, which mixes blues, jazz, and classical music. Also 6 years ago, I co-founded the Grand Canyon School of Rock, where we take a group of local kids from the area, many of whom are beginners on their instruments, and form a rock band and put together a show in 3 days! It's always an inspiring and rewarding experience in one of the most beautiful natural settings in the world!
• Favorite Gear?
JD I love Fender, Tech 21, and Mesa Boogie amps. Line 6 makes great delay and other modelers, I also endorse Digitech and have been using the whammy pedal and bass synth wah. I have a huge pedalboard that scares most guitar players who see it. I'm a total gear nerd. In my book, I talk about how to work with amps and effects if you are a string player.
• Fav Summer Camps or Educational Opportunities?
JD I have taught at the Mark O'Connor String Camp and have been teaching for the past two years at Mark Wood's Rock Orchestra Camp. Both are incredible opportunities for students of all ages to pick the brains of a diverse roster of renowned faculty in one place. As a teacher, it's equally fascinating for me to learn from my colleagues. I highly recommend these camps, as well as Christian Howes' "Creative Strings Workshop" and Julie Lyon Liebermans "Strings Without Boundaries."
• Who do you like to listen to?
JD I've been listening to a CD called "Three Part Invention" with pianist Philip Aaberg, cellist Eugene Friesen, and violinist Tracy Silverman. It's Bach reworked with hip jazz, blues, and funky arrangements. I've also been digging the new MUSE album and the latest John Mayer. Some of my favorite artists of all time include Frank Zappa, Miles Davis, Mahavishnu Orchestra, Yes, King Krimson, John Coltrane, Igor Stravinsky, Bela Bartok, Bruce Springsteen, Radiohead, Led Zeppelin, Ghustav Mahler, and Maxim Vengerov.
• What Do You Recommend to an aspiring Improviser?
JD
1) Don't be afraid to make a total fool out of yourself. You WILL sound bad for a while before you sound good. Have patience and remember that learning to improvise is a journey not a destination.
2) Learning self acceptance is an important thing. With our classical training, string players tend to become to judgemental and second guess themselves. In improvised music, there are no "mistakes," because you are the composer. Everything comes out of YOU. Therefore, a "mistake" can be repeated and turned into a good idea. Learn to accept what comes out of your instrument and work with it.
3) Study with someone outside of your instrument. I have studied improv with violinists, guitarists, sax players, and pianists. When you don't have someone to spoon feed you the fingerings and bowings, it forces you to figure things out on your own. Reiterating what I said before, it's very beneficial to see the world through the perspective of another instrument outside of your own. Most of the things you learn as an improviser are theoretical and not specific to one instrument.
4) Don't just practice in your room. Get a friend who plays piano or guitar and jam with them. Go to jam sessions in your town and get up there. NO FEAR!! You will never learn to improvise if you don't give yourself a chance to apply the concepts you are learning to a real life situation. As I said before, you need to fall onyour face a few times before you can stand up and rock out.
5) You're never more than a half step away from the "right" note. When in doubt, chromatic out.
• How Do You Overcome Self Conscience Playing?
JD Just repeat this mantra: "There are no mistakes. There are no mistakes..."
If you "screw up," screw up with confidence. If you believe that everything you play is the hippest stuff in the world, the audience will believe it too. It also helps to make a "jazz face" where you look like something stinks really bad.
• Any Other Tips On Performance Practices?
JD t's fascinating to me that when a child tells his parents he wants to play guitar, he gets a very different education than one who studies the violin. Us string players are given a string practice regimen by our teachers; start out with scales, then etudes, then work on your concert pieces. These are all important things, but what's missing? There is no room in our practice session to be creative...to just jam. Come up with some cool medodies, play along with your favorite tracks, explore the instrument. Even explore some of the ugly sounds your teacher tells you never to play. It's like exercising a different muscle in the brain that most classical musicians don't bother developing...and it improves your classical playing tremendously as well. Always give yourself some "jam time."
• Final thought: philosophy, quote...anything at all...
JD I think now more than ever, musicians have to have a very diverse skill set if they want to survive. I think the training a string player gets has to change from the ground up. In the classical world, if you show up to an orchestra gig and they see a pickup on your instrument, oftentimes you get labeled as a "jazz guy (or girl)" and you are somehow downgraded in their minds because you aren't 100 percent focused on classical music. It's ironic since it's becoming harder and harder to make a living as a classical musician, with so many orchestras getting huge paycuts and closing. In most fields, people train for careers based on the reality and demands of the market, yet for some reason this doesn't seem to apply in music.
The whole conservatory mentality is not based on reality. To me, being fluent in a variety of musical languages is like an actor being able to take on many different dialects. The more musical languages or dialects you can speak, the more you will work. It's that simple. Regardless of the financial future of classical music, I truly believe that the human need to hear and experience music will always exist, though the medium might change. It's our job as musicians is to educate the public and to tap into that need on every level if we want to survive.
Listen to Joe here: https://www.youtube.com/user/jdeninzon